Ghost stands for easy, fast and independent publishing. Medium for beautiful and easy publishing. So I made myself a Ghost theme that takes the good parts from Medium & mixes them with stuff I would do differently, to form the perfect symbiosis.
Share the Love on Social Media
What do you think? Share you thoughts and comments.
www.svenread.com
Readium 2.0 is a device-agnostic, modern responsive design that is customizable. It's designed to work well on desktops, laptops, tablets and mobile phones.

This theme is free to download and use. Visit the provider's site for more details.
Like this? Vote up to remember it for later.
Share this.
Collections
Free wordpress themes
Templates and themes for Bootstrap 4
Awesome free Shopify templates
Get a great looking Ghost blog
A collection of versatile themes
Based on the popular Google design language
No one will know you used Bootstrap
For your online storefront
Great landing pages for mobile apps
Start here for blog friendly layouts
Perfect to pitch your startup or app
Single page themes make sweet intros
Dashboard type functionality in admin templates
Similar Templates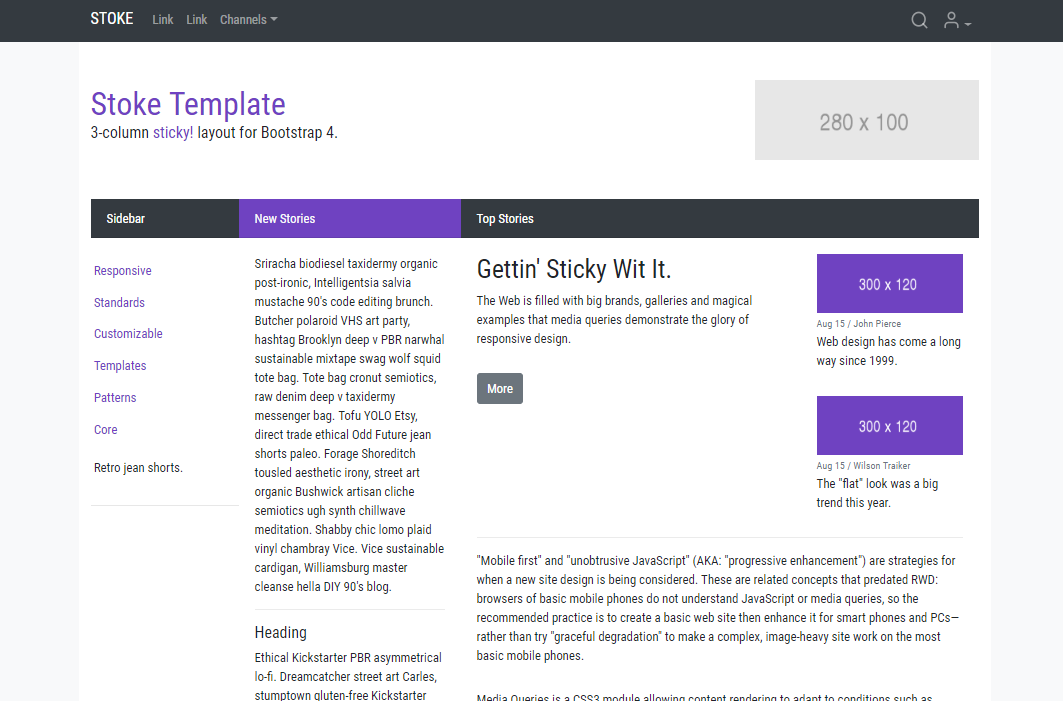 Stoke Template
themes.guide
Stoke Template
A responsive template with a large top header above 3 columns. This template uses position:sticky to attach the left 2 columns accordingly when the user scrolls. The sidebar sticks to the to
Renda Blog Bootstrap Template
moozthemes.com
OnePress WordPress Theme
www.famethemes.com
Template Stash. The best themes in one place.